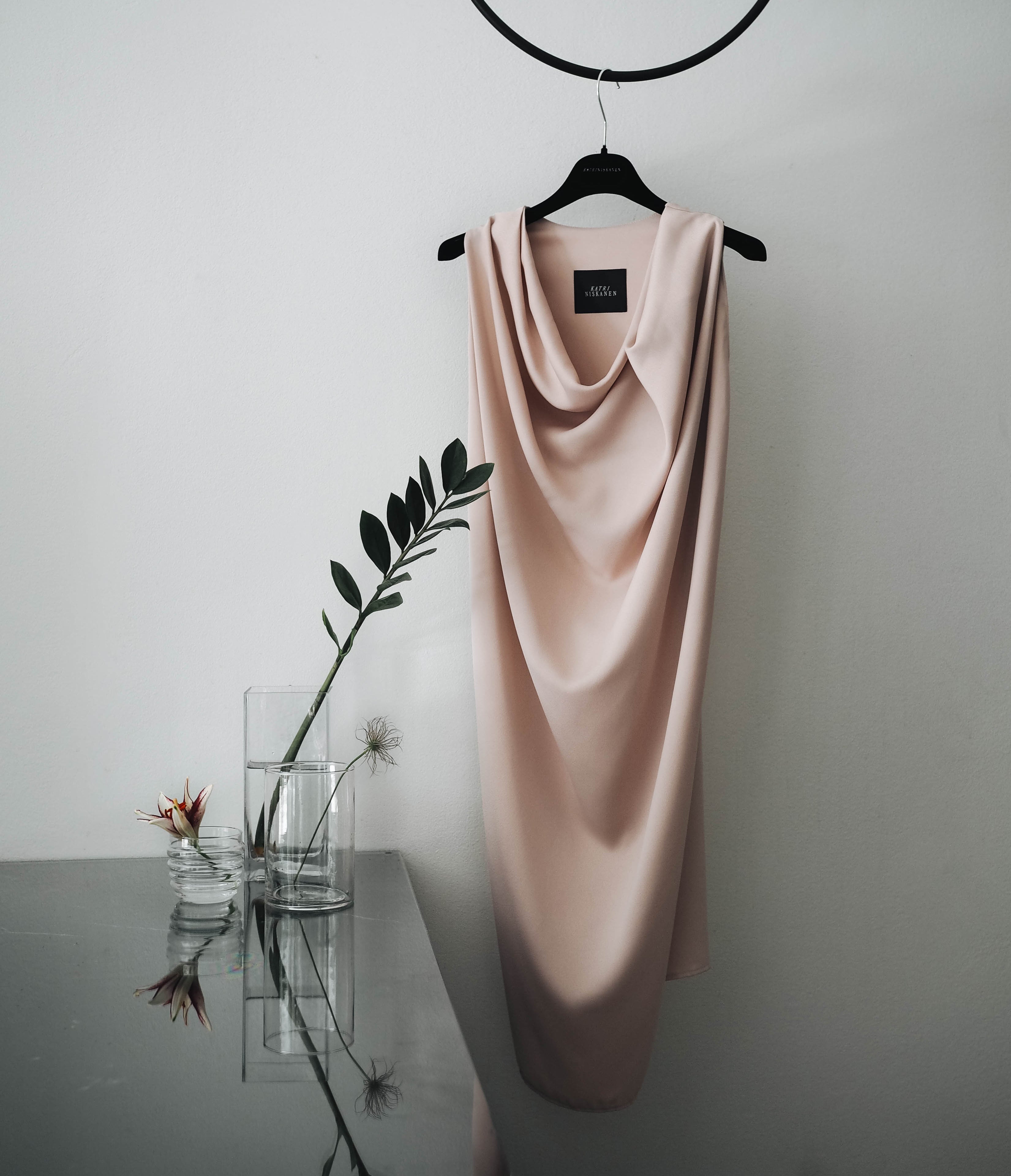 Becoming more sustainable is a continuous journey at KATRI NISKANEN, we are taking baby steps every day to run more responsibly in the future.
Read more about our sustainability and product care.
A beautiful play of fabric – LOVE AND REASON
"Take care and love yourself, others and nature. My mission as a designer is to make timeless products with a purpose and to always find better ways of doing things." –Katri Niskanen, owner and designer of the brand KATRI NISKANEN, established in 2010.
The heart of our business is the product we create. How and where and why our product is made matters. We are committed to developing both design and production to be more sustainable. We at KATRI NISKANEN aim at long-lasting style by timeless design and high-quality materials.
 "As a designer I have a big responsibility for what I create and produce in this continually overloaded world. Garments are designed for a reason and for a certain purpose. Clothes that are designed and manufactured with passion are easy to love and last long. The same is true for a purchase: if you love it, you will care for it and it will last longer. I want to share happiness and joy, beauty in everyday life. Make things matter."
A beautiful play of fabric – MATERIAL MATTERS
High-quality design looks and feels good for years and years. One of the main themes in our sustainability policy is to create wardrobe essentials of timeless design and high-quality workmanship. Through the careful sourcing of materials, we strive for functional and high-quality products with a long life cycle. At this moment our certificates include Oeko-TEX 100, Global recycled standard, GRS Global Recycled Standard, GOTS and BCI Better Cotton Initiative, and we
have also added Polyamide Q-NOVA yarn to the collection. 
We choose the best materials for different needs and purposes. As a team we first test the new materials ourselves. Our goal is to continually source and test new innovative materials and replace as many materials as possible with even more ecological or recycled alternatives. New materials are chosen without sacrificing quality and durability.
We aim at low cutting waste loss. Many of our materials are constantly used in our production, so any leftover materials will be used later. Use of fabric is always optimized for each order.  "I design patterns with a "zero waste" method on my mind, and we implement that with every style possible", says designer Katri Niskanen, who also makes the testing and first sampling patterns by herself. Surplus materials are re-used for small items like accessories. In the future we will tag products that are made from cutting waste.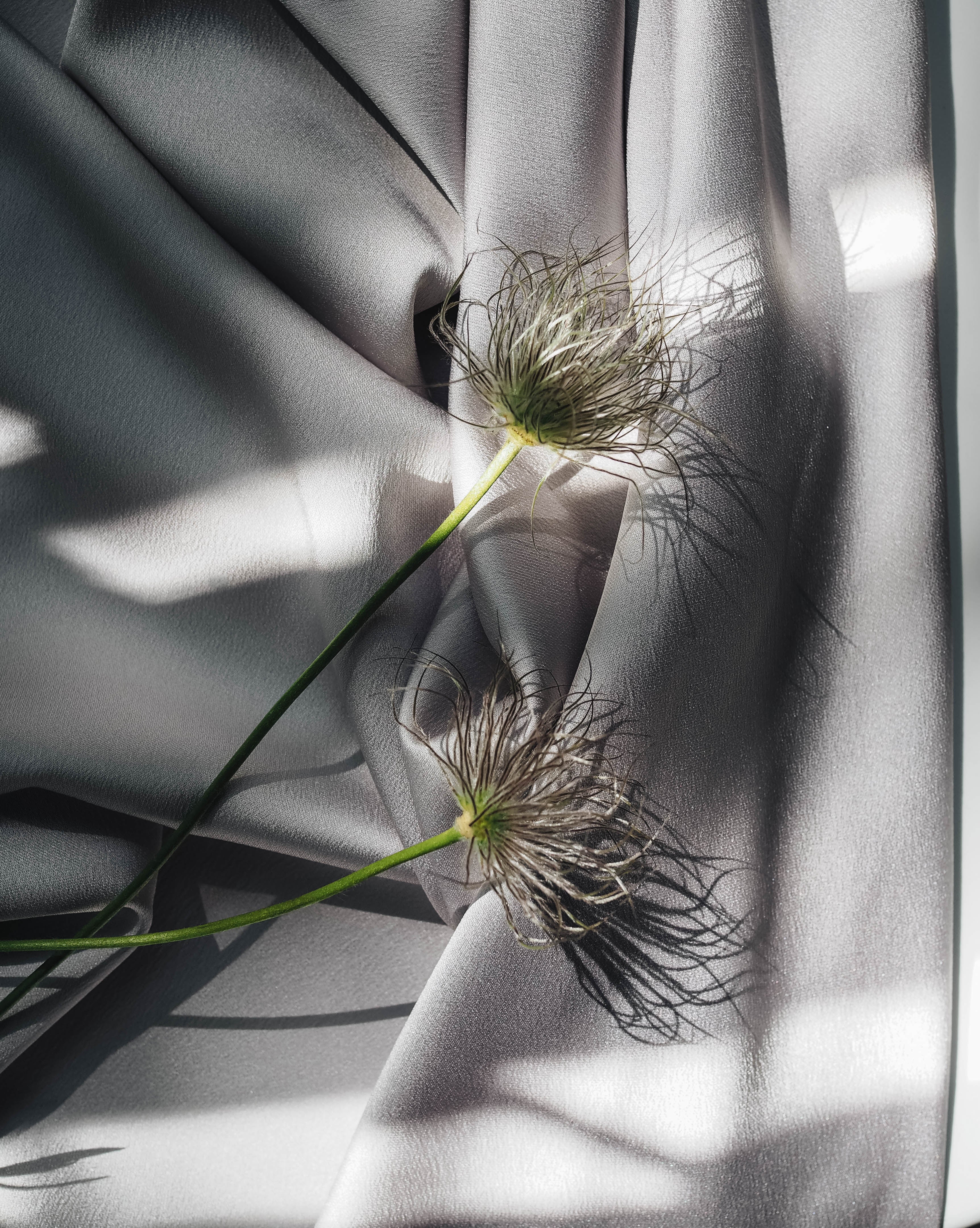 A beautiful play of fabric – CARE 
One of the key factors in a long life cycle is easy care. We prefer water-washable materials. With the right care, it's possible to re-use garments and maximize their life cycle. 
We encourage customers to wash less, but wash correctly, and recycle garments. We recommend ventilating clothes whenever possible, instead of washing them after every use. Our garments are meant to last a long time. In order for them to do so, it is important to be mindful of how to take care of them. 
The best way to take care of your clothes will vary from one garment to another, which is why it is essential to always read the care label carefully before washing. We give specific instructions about the material care of each garment on the website and on the products and also give care instructions at our store & atelier.

We provide customizing and repairing services by appointment. We encourage our customers to recycle products and we sell our sample and fashion showpieces. 
A beautiful play of fabric - PRODUCTION  
Product design and patterns are made in Finland. Our products are made in Europe, mostly in the Baltic countries. Most of the woven and jersey products are manufactured in Estonia and knitwear in Lithuania. Some of the knits, socks and accessories are made in Finland. Tights and print scarves are manufactured in Italy. Shoes are made in Portugal. Samples and made-to-measure orders are made in Helsinki, as well as all fixing and repairing. We strive to avoid unnecessary shipping. 
We choose factories based on their competence, size and capacity in order to produce low minimum orders. When operating inside Europe it is easy for us to ensure good working conditions. We co-operate with small factories whose work ethics and quality of work we can trust. We want to know whom we work with and that our factory workers are getting paid well.
We require that all our partners commit to our ethical guidelines. Get to know our Code of Conduct ethical guidelines.

A beautiful play of fabric – QUALITY CONTROL 
The big picture is important, but every detail still matters. The manufacturers and fabric agents are a very important part of our community and we have maintained long-lasting co-working relationships since the very beginning in 2010. We require confidential relationships and want to ensure high-quality workmanship. We value short distances and our main factories are located in Tallinn, less than 100 km from Helsinki. 
Long-term relationships with the factories are our goal. We visit the factories we work with and communicate with them every week, and our contacts at the factories have become like friends to us during these years. We also do quality control of all products before selling and shipping them to our customers and retailers.
Production volumes are kept close to the demand in order to avoid overproducing and deadstock. Also, quality control is more efficient with small orders.

A beautiful play of fabric – PACKAGING AND SHIPPING 
We highly value local production and try to achieve short delivery distances by road or ferry transportation. The goods arrive at our warehouse in a few plastic bags and cardboard boxes, which we re-use as packaging or shipping material. Our factories use recycled packaging materials. 
Only sensitive products are packed in individual plastic bags, helping us minimize the use of packing material and plastic. For evening gowns we use re-useable garment bags and hangers made from recycled material. When packing white wedding gowns we will use plastic as a cover. We deliver hangers to our retailers and they are advised to return leftover hangers back to us for re-use. Our target is to decrease the use of plastic for packaging to a minimum and use only recyclable plastic.
For online orders we use paper bags. When packaging for customers, the pieces are wrapped in silk paper and then put in our signature paper bags. Products are delivered to our customers with the best environmental option of shipping by DHL, Posti and Matkahuolto. 
If a customer lives nearby Helsinki, we recommend choosing the most eco-friendly pick-up option, to visit our store & atelier at Fredrikinkatu 41. When visiting the store, a customer can easily try the clothes, which helps avoid unnecessary return shipping. If a customer lives in another city we recommend visiting the closest retailer. The retailers are listed on our website. At the moment our sizing is based on the N-2001 size chart. To make online shopping in the future even easier, we will add more specific measurement information of every garment.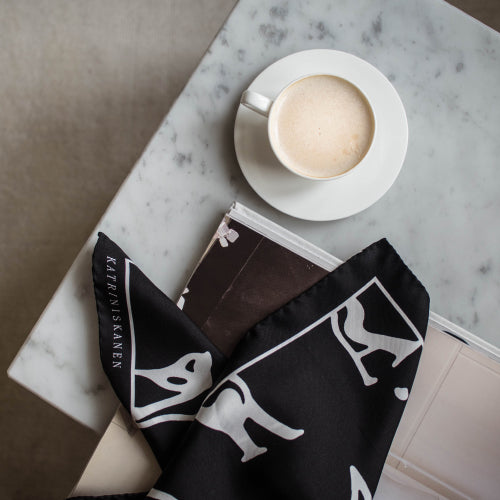 A beautiful play of fabric – THINK TWICE 
Being responsible in the fashion industry is a commitment from both consumers and suppliers. We want to rethink and to be transparent, aware and honest. On the consumer end, it means thinking twice about every purchase and making the choice based on your real needs. We want to offer long-lasting favourite pieces for your curated wardrobe and to help in choosing the right product for you in our collection. We want to ensure that our customers are happy with their purchase. Welcome to the world of KATRI NISKANEN, see you in store and online! 
A beautiful play of fabric – OFFICE AND TEAM
A good working environment starts at the individual level. By offering a safe, equal and free and open working environment for our employees, we want to take responsibility for their wellbeing. We want to create a more human business culture by a supportive working atmosphere that works like a family, caring for and encouraging each other. We treat each other as family members and clients as friends. We favour a supportive culture of discussion both inside and outside the company. In the future, we want to be the best job and a desired partner.
KATRI NISKANEN store and atelier is situated in Helsinki, Fredrikinkatu 41. We believe in the power of small acts. Small streams create streaming rivers. At our store & atelier we do small, responsible things every day.
We minimise unnecessary electricity consumption, such as deliberate night lighting at the store. The electricity comes from Helen and the electricity is free from CO2. The specific carbon dioxide emissions of Helen's Environmental Electricity is 0 g/kWh and the amount of spent nuclear fuel is 0 mg/kWh. The company has no car in use.
We carefully recycle and sort all incoming waste. We try to re-use all plastic, paper and cardboard waste. We aim to further reduce unnecessary printing. We prefer electronic channels for external communications, for example we use only electronic catalogues in B2B sales and marketing. All invoices are sent electronically.
Together, we want to offer our customers an increasingly versatile and qualify customer service today and tomorrow.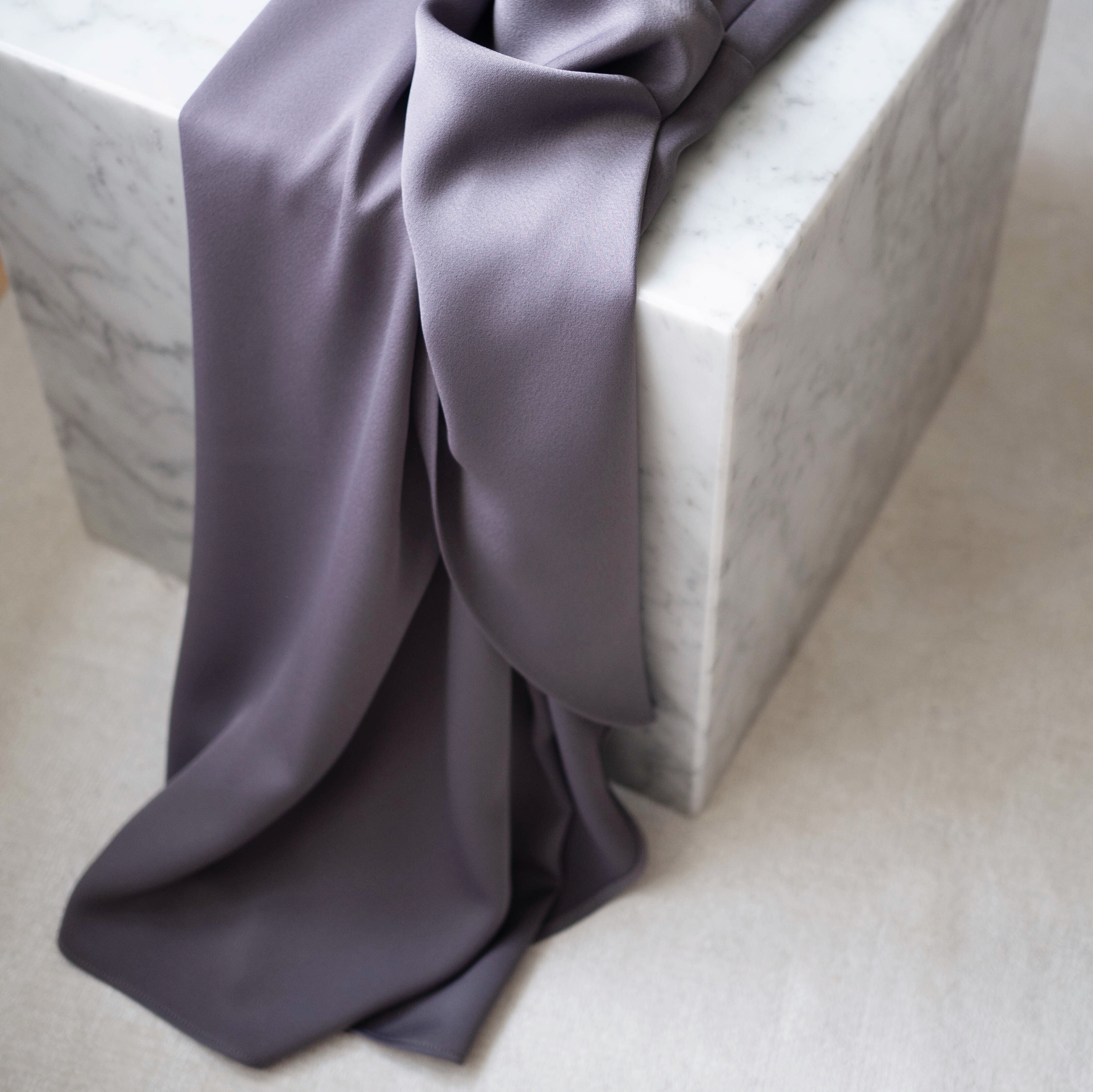 Thank you for reading
www.katriniskanen.com